Race Night Tickets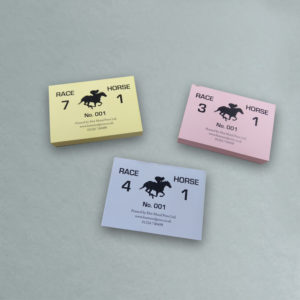 Race nights can be an exhilarating experience, and a wonderfully entertaining way to raise funds and have fun at the same time!
Starting at £25 for one pack, with cost savings for every extra pack ordered!
Our Race Night tickets come as:
Total of 6,400 tickets
8 races 8 runners
100 tickets per runner
Each race a different coloured ticket
Glued into pads
A great evenings entertainment!
Choose Printing Options
Format
Carriage Requirements
Quantity
Printed on an 80g bond stock in various colours to identify each race.
Packed as 100 Race Night tickets per pad, 8 runners per race, 8 races in total.
This is an off the shelf item.
No artwork is required.