Golden Goal Cards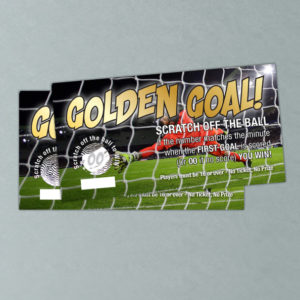 Ease of Use
Golden Goal scratchcards are easy to play and can be played on all TV matches or any other league matches.
Packed and Shuffled
Golden Goal scratchcards are packed in sets of 91 shuffled cards, with each card having a unique number.
Winner even if no goals are scored
Golden Goal scratchcards are numbered 1 to 90 plus 00 which covers every minute of the match in standard time, the winning card is the one that has the number matching the time of the first goal. If there is no goal at the end of 90 minutes then the 00 card is the winner.
1 - 4 Packs = £5.00 each
5 - 9 Packs = £4.50 each
10-24 Packs = £4.00 each
25-49 Packs = £3.50 each
50+ Packs = £3.00 each
Choose Printing Options
Format
Carriage Requirements
Quantity (In packs of 91's)
Printed on a white silk card suitable for writing on, with a scratch off panel to reveal the winning team
These are an off the shelf item.
No artwork is required.