Football Scratch Cards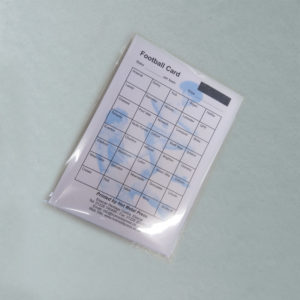 Suitable for Charity Fundraisers or Landlords who would like an addition to their pub quiz.
The Football Scratch cards come in a 40 card set and each card has 40 different football teams on it. The game begins when you sell each team square to your patrons.
When the Football Scratch card is full you scratch off the foil in the top corner to reveal the winner. Every card has a different winning team, so everyone has a equal chance to win every time they play
1 - 4 Packs = £5.00 each
5 - 9 Packs = £4.50 each
10-24 Packs = £4.00 each
25-49 Packs = £3.50 each
50+ Packs = £3.00 each
Choose Printing Options
Format
Carriage Requirements
Quantity (In packs of 50's)
Printed on a plain white offset card suitable for writing on, with a scratch off panel to reveal the winning team
These are an off the shelf item.
No artwork is required.